(did y'all notice that nice new blog graphic? 😉 check more of 'em here)
The Coronation:
Synopsis:
(taken from Goodreads)
Prince Addison is only several weeks away from inheriting the Kingdom of Tarsurella. The entire Palace is ablaze with excitement, as the Royal Family prepares for the event of a lifetime. Despite the exciting event which is near at hand, Addison and his younger siblings (all seven of them!) must carry on with their daily activities. 

Addison's sisters, Princesses Bridget, Chasity, and Hope, have their struggles with being iconic European starlets of a modern day monarchy. The teen heiresses grace magazine covers, smile for photoshoots, and gracefully glide through important interviews–until a certain American popstar arrives on the scene. Kennetic Energy, the wildly popular band from the United States, is chosen to play at Addison's Coronation. David Carter, the band's handsome lead singer, fumbles through awkward moments with Princess Hope–in front of the cameras. When an embarrassing rumor sparks that Princess Hope is dating the young fellow, she is determined to get the band fired from their Royal gig. 

Meanwhile, Princess Chasity is dealing with her own fragile affairs of the heart. Her new security guard, Hanson Fletcher, is completely captivating, yet entirely frustrating. She attempts to keep the entrance of her heart firmly protected, while following the wisdom of Proverbs 4:23. But can she be successful in guarding her heart, from her security guard?
(First of all- the synopsis attracts readers in a very well-done way. I would know- I was hooked when I read it). 
Review:
I. Loved. The. Coronation. It was a fabulous novel, full of amazingly-written and realistic sibling relationships, which is hard to do considering there are eight children. I related to how Addison isn't confident in his ability to embody what his dad is. I sympathized with Asher's POV and guilt at the end.  I loved learning about the different issues some of the children were facing- Bridget trying to cope with Jacob's betrayal (not a spoiler, I promise), and Hope's insecurity in her looks (well, slight insecurity. But still). I was kind of confused at how many children there were at first? I thought there would only be three or four? But I very quickly understood that, yes, there are eight children. They really aren't hard to keep track of after you get that information in. x)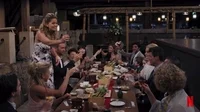 (I'm actually quite familiar with people with large families… it just caught me off guard at first and my mind was quite confused.)
There were some very interesting plot twists, which I really wasn't expecting, but they were very well-written and definitely had me turning the pages very quickly, to the point of exhaustion*.
*just kidding. but it was close.
I also found it strange that Addison had (spoiler [ish? I personally wouldn't consider it as a spoiler but other people might?]: highlight white text) dreams about the attack before it happened?
I do wish that we could've seen more of Smashman and his troops, as well as Hanson's parents, but I'm guessing The Rebellion (which is book two in case you aren't familiar with the Tales of Tarsurella) will include that. 
Content:
barely detailed scene where someone assaults another character, but nothing in that stood out to me as a red flag

There's lots of romance, but all of it would be appropriate for an 11 year old; however, there is one scene where two characters nearly kiss, and there are barely/not at all detailed descriptions to accompany that scene

a drunk man handles a girl rather roughly and said that she was "pretty nice to look at" or something along the lines of that (barely detailed also)
Conclusion:
Overall, The Coronation is a lovely novel on princesses and princes and castles and guards and I absolutely adored it. 4.75 stars.
Livy has a charming writing style – I now feel like I've been to Tarsurella – and I'll definitely grab The Rebellion to read as soon as I can.
Recommended to 12+ for minor violence and romance. 
Normally, I wouldn't purchase hard copies of books I already have in ebook form, but The Coronation is a book that I want to have on my bookshelf and bring on vacations and it's definitely one that I would go yell about to my bookworm friends (and yep, it's in my Amazon cart right now).
Also, I read it twice. The first time, I loved it. The second time? Loved it even more. And I should mention that I rarely, if ever (in fact… I don't remember the last time I reread an online book?) reread online/ebook books more than once because my eyes prefer to spend time on reading real paper/hardcover books over on screens.
So… please go buy it. It's obviously on the pricier side, being $15.99, but it is a thick book and completely worth the cost and time.
Have you read any of Livy's books? What did you think of them?
Any questions? Feel free to ask below in the comments!